What's TAP all about?
TAP Learning offers a wide range of TAP certificates focused on learning and development (L&D), with courses from Training Delivery and Online Facilitation Skills through to E-Learning Design and Learning Evaluation. Our certificates can be taken individually as part of a personal development plan, or can be delivered to teams of 6 to 10 at your workplace. TAP has been specially designed to work across all sectors and organisations, giving you skills that are immediately transferable back into your workplace.
Our extensive range of L&D qualifications can be taken on a standalone basis or built into a TAP diploma – see the Skills Qualification Framework below. Each of our TAP diploma pathways consists of four TAP certificates, plus an online self-study programme that reinforces your learning.
Many L&D professionals choose TAP courses not just because of the fantastic experience of learning from some of the best trainers in the industry, but because of the impact that learning has once they're back in their workplace. They say that TAP qualifications result in internal satisfaction scores, improved net promoter index scores, higher attendance rates for their courses, increased employee engagement, reduced costs and improved alignment with company goals and objectives.

Skills Qualification Framework
Click on the image below to download the full framework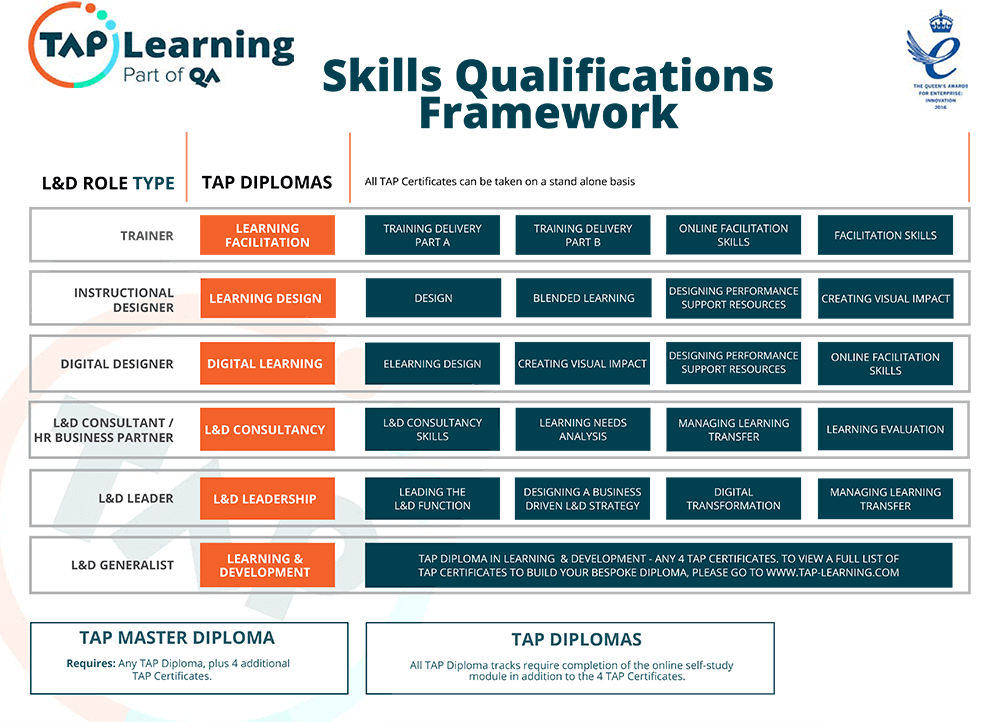 Our learners score us 9.3!
Our customers have given us an average score of 9.3 out of 10 for our TAP Learning. That's not bad! And we're always trying to improve it so that our learners have the best possible experience.
Upcoming TAP Courses
See all the TAP courses that are running in the next three months.
October 2020
Here is a list of courses that are running during October 2020:
December 2020
Here is a list of courses that are running during December 2020: