Are you under pressure to recruit more tech talent, faster this year? Are traditional methods of recruiting failing to deliver the pipeline of new talent you need?
Perhaps it's time to do things differently.
Most business systems we interact with daily are based on Software-as-a-Service. Nowadays your first thought wouldn't be to build, connect and host an applicant tracking system on your organisation's server managed by a siloed IT team. You would more likely pay a monthly fee based on service level and consumption.
The Software-as-a-Service model reduces upfront costs, accelerates upgrades and makes scaling up and down to your business needs easy. And it's why Gartner predicts that the service-based cloud application industry will be worth $143.7 billion by 2022.
What's this got to do with recruitment?
Well, technology has evolved, but the method for sourcing, hiring and engaging the right talent has not followed suit.
For organisations to thrive with this as-a-service paradigm shift, it makes sense that hiring catches up with the shifting landscape.
And we think it's time it did.
Introducing Squad-as-a-Service
Identifying and embedding people who meet your tech talent needs and are a good cultural fit for your organisation takes time. It can take months to get your request for talent signed off, go through interview rounds and then finally have your new starter join. Meanwhile, projects have slowed, your team has picked up the slack and morale may be compromised.
What if you could remove all that pain and access AI, cloud, cyber, DevOps, data, RPA, software development, testing or even Salesforce developer specialists already skilled and all ready to hit the ground running?
We have the answer. We call it Squad-as-a-Service (or SQaaS).
We provide talented, early-careers individuals with these skills and place Squad-as-a-Service teams when and where they are needed most. We have been placing hundreds of tech specialists in our clients' organisations, from SMEs and systems integrators to enterprises and governmental departments.
The process of scaling your tech team obviously starts with you defining the skills you need. We can help you create the "spec", if that is useful. Then you can choose from our ready-to-go roster of junior tech specialists, or task us with finding suitable candidates to meet your specific needs. If you have very specific requirements, we can build tech talent that has the skills you need. As we regularly launch new bootcamps for new squads (our most recent one for Salesforce tech specialists will deliver graduates by March 2021), our skill-building stays sharp as technologies and market demands evolve.
Rigorously tested
Like building applications, building up our tech specialists' competencies is a rigorous process.
The typical candidate undergoes an intensive 12-week training programme to emerge at SFIA Level 3 – Apply. SFIA is a common standard many organisations use to assess skills.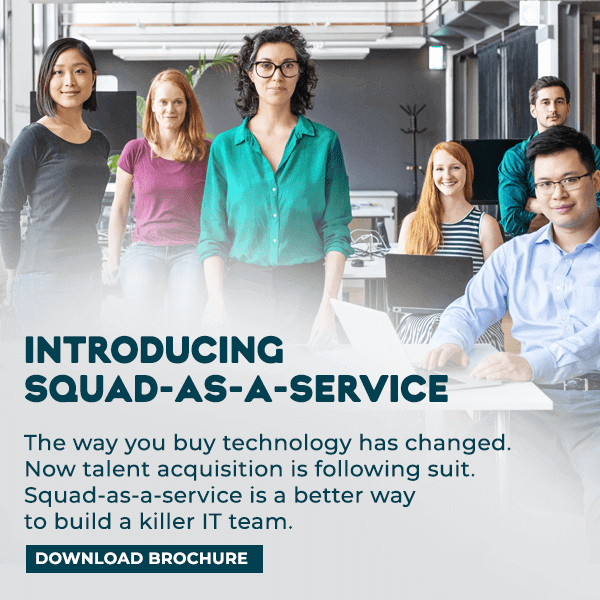 Level 3 graduates can manage their own and other people's work schedules and engage well with suppliers or customers. This means they hit the ground running as soon as they integrate with your business.
Squad-as-a-Service is also accredited by the British Computing Society (BCS), the Chartered Institute of IT. BCS's Learning Capability Modelling (LCM) uses a progressive scale of 5 Es to evaluate how well an organisation delivers on IT skills and capabilities: explorer, enabler, embedded, expert and exemplar.
In a digital consulting audit, BCS concluded that our candidates emerge at the level of Embedded by the time they finish training.
These independent assessments mean you can be confident of the work your tech specialist produces. And that they will fit in with the rest of your team.
A flexible, low-risk model
Normally, QA's tech specialists deploy to clients for a period of up to two years. During this time, we are in regular contact with each of our tech specialists as part of the ongoing service. We tailor a technical skills development plan for each individual to reflect the evolving needs of the client, technologies and projects. We also support the tech specialist with pastoral care to make sure they thrive – and if someone doesn't work out, we'll replace them free of charge.
SQaaS gives you flexibility by bolstering your existing team or helping you create a new team for a specific project for a set period of time. After the project, you can scale your team down again.
Unlike SaaS, you can change the model. What do I mean by that? Often our clients choose to make SQaaS individuals permanent after their time is up. In fact, around 90% of SQaaS tech specialists transfer to permanent positions with an organisation – a great reflection of their calibre and commitment.
The new way to hire talent
Creating a pipeline of ready-to-hit-the-ground-running tech specialists without the risks of permanent recruitment is a new way to manage tech talent.
Every organisation can access software, storage and even raw computing power on-demand through the cloud, only paying for what's needed.
Now talent acquisition is following suit. Squad-as-a-Service is a better way to quickly build a killer IT team.
If you're interested in finding out more, see how The Home Office, the Department for Education and Cognizant are benefitting from our approach to tech talent:
If you have a gap you need to fill quickly, then get in touch with one of our team. We're confident we can help you.
Discover more about Squad-as-a-Service
This is one in a series of blog posts on digital transformation. In previous posts, we looked at how to emerge stronger from this crisis, how to lead an L&D revolution, how IT leaders can develop tech talent, how to win the war for tech talent, why digital capability assessments matter, why it's time to change our attitude to aptitude tests, three teams that drive successful digital transformations, and why understanding digital tech is now everyone's job.
Don't miss them.
James Frost
James joined QA in October 2019 and leads the Marketing function. He is passionate about how we can win new customers.
James has worked in Marketing and Product Development for his entire career, working across both B2C and B2B organisations. He started out at Unilever, running their detergents brand portfolio across Europe, before moving to become the Marketing Director for the Nectar loyalty programme. Most recently he spent four and a half years as the Chief Marketing and Commercial Officer for the UK division of Worldpay, where he was part of a team that managed a successful IPO in 2015.
James is a scientist by background, graduating with a degree in Chemistry from Oxford University.