As Head of Talent Acquisition at QA, I frequently speak to clients facing two challenges: the digital skills gap and a lack of diversity in the tech talent pool.
These are both hugely complex problems, but they're also two sides of the same coin.
The major obstacle standing in the way of solving both problems is the level of emphasis businesses are still placing on technical aptitude.
Over-reliance on academic qualifications or technical accreditations is holding back the recruitment of tech personnel by both recruitment agencies and HR departments. Critically, it's now slowing down the delivery of major digitisation programmes within UK organisations – projects worth millions of pounds.
It's time for recruiters to throw out the rule book and start doing things differently. Here's how.
Don't focus on aptitude alone
Let's start with aptitude. What I mean by "aptitude" is evidence that a candidate has the right technical skills and/or qualifications to do the job you're recruiting for. Identifying aptitude often involves checking CVs against a list of rigid tick-boxes (have they got a STEM degree? Are they certified in this year's technologies or methodologies?), or getting candidates to perform a coding test before you interview them.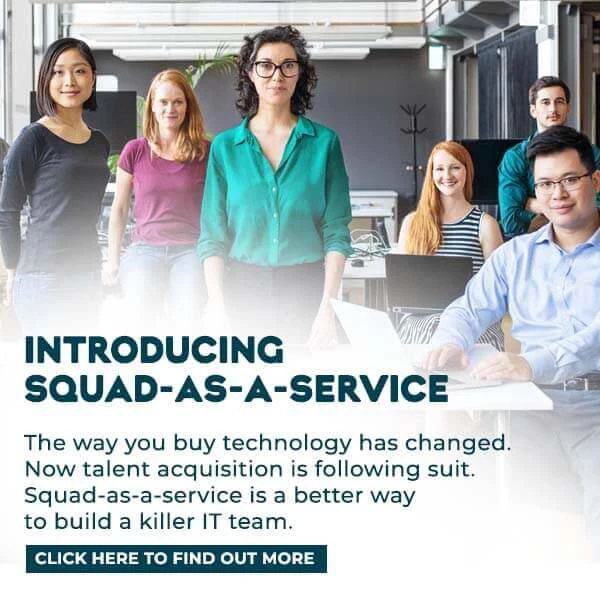 By focusing on aptitude alone, the approach to screening today's tech candidates has basically been one of tunnel vision. We've neglected to look for something in candidates for tech roles that is ultimately just as important as their aptitude – their attitude.
Attitude really matters
Throughout the decades that QA has been working with businesses to recruit tech talent, we've learned what creates a successful digital consultant – or apprentice – and it certainly isn't just about having a maths degree, or GCSEs and A levels in STEM-related subjects.
What really counts – especially in the long run – is a consultant's personal qualities, or attributes. Their ability to work in teams, for example, or to work independently. Perhaps the most important of all qualities is the attitude they bring to learning. Tech is always moving (often at a breakneck pace) so being willing and able to pick up new skills and ways of working is absolutely essential to becoming a successful QA digital consultant, and member of the talent programme we call Squad-as-a-Service.
You can probably think of colleagues who have great qualities that an IT department would benefit from, but who would never think of transferring into tech because they haven't got a STEM degree. And that's a shame. By recruiting for aptitude alone, companies are overlooking a huge (and diverse) pool of talent – and preventing people who have a lot to offer the tech world from getting into it in the first place.
It's time to tackle the tech monoculture
We're also operating in a world where those with the right qualifications don't come from a particularly diverse range of backgrounds. For example, a report by The Guardian and PwC quotes ColorInTech stating that only 4% of employees in the tech industry come from BAME backgrounds.
And while there's been steady progress in attracting a more diverse range of people to study tech-related subjects, in 2018 only 15% of Computer Science graduates were women, according to STEM Women. As of last year, only 21.4% of people studying computing at GCSE were female, writes Computer Weekly.
At QA, we believe things have to change. Which is why we've been running a whole bunch of initiatives centered around attracting more diverse applicants to our apprenticeship and Squad- as-a-Service training programmes in recent years.
For example, we know that certain groups from BAME backgrounds are less likely to apply for tech roles unless they're approached and invited to. To solve this problem, we work with our partners to proactively invite people from these specific groups to apply.
We also run all our recruitment ads through an AI tool to remove unconscious bias, and continually assess and adjust our algorithmic scores to avoid discriminating against any demographic group (more about that shortly).
Creating a more holistic approach to recruitment
At QA, we've set out to create a more holistic recruitment process that encompasses both aptitude and attitude.
To achieve this, we worked with a crack team of behavioural scientists to research and identify the key personal strengths, motivations and behaviours that digital consultants need to succeed. The team has identified nine key qualities, including squad mentality (the ability to work as part of a team), autonomy (the ability to work independently) and growth (the ability and willingness to broaden their skillset where needed).
Armed with these findings, we've created an assessment that captures all nine of the key qualities. Anyone who applies to be trained and placed by QA as part of our Squad-as-a-Service takes the assessment. It takes between 60 and 90 minutes, and each applicant receives detailed, constructive feedback, identifying both their strengths and areas for improvement. This ensures that, regardless of whether they ultimately qualify for an interview, the assessment is a positive and constructive experience for them.
After completing the assessment, applicants take a cognitive test. Unlike a traditional aptitude test, this assesses both numerical and critical reasoning skills. Again, this represents a more holistic approach to recruitment; we know there are many types of intelligence that can set a person up for success in tech, not all of which can be captured by a coding test.
Both scores are considered, and applicants who achieve the required standard go on to have a virtual interview with one of our recruiters.
Recruitment that opens the floodgates and raises the bar
We're still learning, but this approach is really helping us to solve the twin problems of lack of people and lack of diversity. And it will get better and better. The more candidates we interact with, the more accurate our algorithmic scores will become.
So far, we think it's a win-win approach for everybody.
The process removes rejection purely based on first impressions from a CV and is far less intimidating for candidates, many of whom are applying for roles, or training programmes, for the first time. 
Our recruiters know that interviewees have already demonstrated the right strengths, motivations and behaviours to become successful digital consultants.
Similarly, our clients know that the candidates we supply them with have the underlying personal qualities – such as squad mentality, autonomy and a growth mindset – that predict long-term success in tech.
By assessing candidates on their strengths and motivations as well as their reasoning skills, we're not only helping bridge the digital skills gap and encouraging a more diverse range of people to enter the tech industry. We're also improving the quality of our Squad-as-a-Service digital consultants, and the effectiveness of our clients' tech teams going forward.
Find out more about our Squad-as-a-Service programme
This is the sixth in a series of blog posts on digital transformation. In previous posts, we looked at how to emerge stronger from this crisis, how to lead an L&D revolution, how to win the war for tech talent, how IT leaders can develop tech talent, and why digital capability assessments matter. Don't miss them.