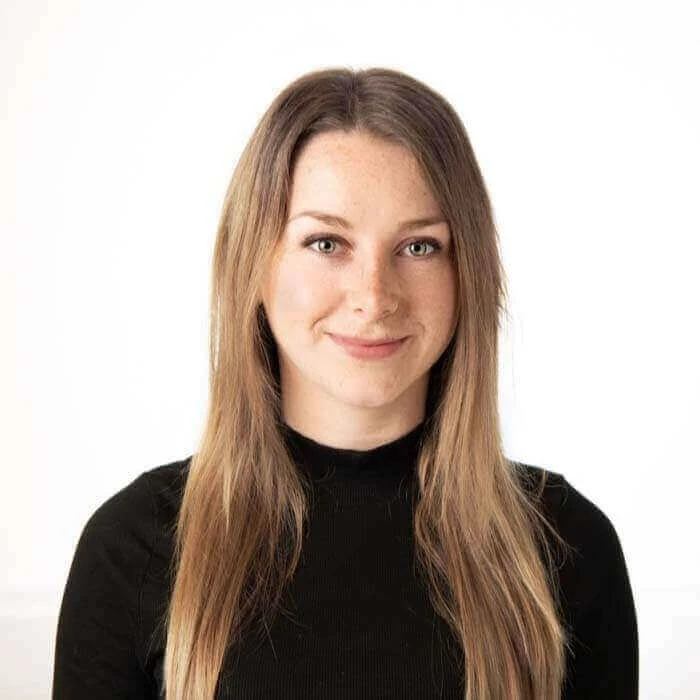 Finding the right career path
When Gina Jackman completed her one-year foundation course, securing a degree in a related subject seemed like the natural next step. With a keen interest in marketing, Gina applied for a course in Visual Communication, specialising in Branding and Advertising. However, on graduation, it wasn't quite the path to a career she had expected.
"When it came to job-hunting, everyone had the same issue: employers were looking for marketing experience – not advertising skills," explains Gina. "I hadn't covered any of the data collection and analysis side of things, so I needed to find a cost-effective way to upskill and make myself more employable."
An apprenticeship with Ergo
Gina was initially not considering apprenticeships, however when she saw an advert for QA while searching for opportunities, her interest was piqued and she decided to find out more. QA is the UK's leading provider of tech training and talent solutions, empowering the next generation of technologists and helping organisations build the tech capability they need to be successful in the digital world. QA matched Gina to Ergo, a multiskilled creative design agency in the Cotswolds, specialising in brand, digital and industrial design.
Gina decided on the BCS, the Chartered Institute of IT Digital Marketer Level 3 apprenticeship, which combines online learning and video content with workshops and practical exercises throughout the learner journey, all under the guidance of a dedicated Digital Learning Consultant.  
The Level 3 apprenticeship programme has been designed to deliver the digital marketing skills required in today's evolving and demanding marketing landscape. The modules cover a mix of core marketing principles and technical skills, including customer relationship marketing, web technologies and analytics. The role-based approach to learning allowed Gina to quickly put new skills into practice, helping to embed learning while also adding value to her employer, Ergo.
Ergo's view
Ergo is a creative agency with a focus on branding as well as digital and industrial design. It is growing 100% year-on-year but has found it difficult to recruit competent staff. Here, Design Director Tom Walton tells us more:
"Managing the recruitment process ourselves can be costly and time-consuming, so going down the apprenticeship route was ideal. Gina is our second apprentice and she has proven as resourceful and committed as our previous one.
"Ergo partnered with QA to find the best candidates, confident in the knowledge that it would only suggest dedicated and talented individuals. After interviewing a shortlist of four, Gina stood out as having the skills we needed.
"Since then, Gina has bloomed into an extraordinary marketing executive, handling numerous high-profile campaigns for us and making a positive impression on our clients.
"She has been able to combine learning at QA with on-the-job experience here once a week and that balance has proven critical to our joint development.
"Now that she has completed her course in Digital Marketing, Gina is set to play a key role in the continued growth of Ergo.
"QA Apprenticeships are the perfect option for smaller companies who want to grow their business with minimal risk. We are already looking forward to welcoming our next apprentice in the coming months."
The training programme began with a three-week kick-off period that was held in person with the other cohort members. Training was then moved to virtual delivery through a mix of digital platforms, such as Zoom, and included online collaboration and regular calls with her two key tutors. The largely online nature of the course proved useful when the Covid-19 pandemic struck as, unlike traditional universities, the learning experience was mostly unaffected.
"QA provides an opportunity to learn about the areas I am unfamiliar with while getting vital hands-on experience. The tutors are high energy and incredibly knowledgeable and the course is flexible. As a dyslexic person, the fact that it was orientated towards coursework rather than written exams was very helpful. My QA Digital Learning Consultant also created a support plan to ensure my training wasn't adversely affected," adds Gina. "We covered so much ground and had plenty of real-life examples to help bring the theory to life – one week we would explore logistics, the next it might be baby fashion trends."
Real-world experience
Meanwhile, at Ergo, Gina found herself the fledgeling member of the marketing department: "Ergo had never had a dedicated marketing person so I was able to shape the role based on my QA experience," she comments.
"I had no idea about any of the topics before starting; Facebook Analytics meant nothing to me, for example. And, because there was no dedicated marketer at Ergo, QA was invaluable in teaching me the essentials," continues Gina. "I could then apply these skills to real-world clients, such as Barcode Warehouse, the UK's leading barcode solutions specialist and enterprise mobility managed service provider, for whom I created social posts, paid-for ads and WordPress campaigns."
Outstanding achievements – and future learning
Gina was awarded a distinction in her course, which recognised her as a "highly skilled digital marketer who exhibits all of the core competencies, proficiencies and behaviours required."
Alison Pearce, Quality Delivery Manager for Apprenticeships for the BCS, further commented, "When Gina submitted her evidence at Gateway, the assessor pre-reviewed all evidence prior to the interview, as is the process to plan for the end-point interview. The portfolio submitted was superbly presented, comprehensive, detailed, with clear explanations including activities to provide the breadth and depth expected of a significantly higher apprentice.
"The employer reference provided additional underpinning and supporting evidence with a different perspective on Gina's activities. Based on these and the synoptic project, the assessor's focus was to validate the evidence presented for robustness, authenticity and competence. Gina had clearly been prepared for the interview, could discuss her activities in depth and provided additional clarity and activities during discussions. Gina was fully deserving of the distinction she achieved."
Gina is now Digital Marketer at Ergo and is on the lookout for an assistant of her own to help manage the six-figure budgets with which she is now entrusted.
"QA opened the door to the industry for me; it perfectly complemented my existing university credentials, and I learned a huge amount in just 13 months," says Gina. "It gave me the confidence and skills to succeed in a competitive industry as well as a roadmap for my career. I would definitely recommend QA to other ambitious young professionals and intend to follow up with another course in Creative Design."
About Ergo Creative
Ergo Creative are a multi-skilled team of creatives, designers, developers and marketers. As an experienced creative agency Ergo implement brand, digital and industrial design with pride and attention to detail.
With over a decade of experience working with businesses of all sizes both globally and locally. The Ergo team are ethical and committed, to our clients and our brand values. Every project starts with the clients' vision in mind.
We create innovative solutions to our customers' problems that help them to stand out in their field.