Certification details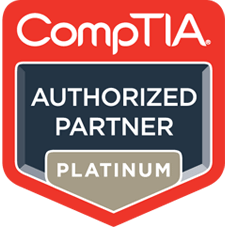 CompTIA Security+ certification designates knowledgeable professionals in the field of security – one of the fastest-growing fields in IT.
Our Certification in a Box gives you everything you need to gain this valuable CompTIA certification.
RRP: £2,645 
A certified professional has the knowledge and skills required to install and configure systems to secure applications, networks, and devices; perform threat analysis and respond with appropriate mitigation techniques; participate in risk mitigation activities; and operate with an awareness of applicable policies, laws, and regulations. They perform these tasks to support the principles of confidentiality, integrity, and availability.
To become certified you need to successfully pass the CompTIA Security+ exam.
What's included?
5 days CompTIA Security+ Certification Support Skills training.
CompTIA Security+ Study Guide: SY0-601 – self-study book.
CompTIA Security+ exam: SY0-601 – please call your account manager when you are ready to book and we will place the order.
Access to the CompTIA CertMaster Adaptive self testing tool.
Sit the following course and pass the associated exam: