What if you could get the tech talent you need in just 12 weeks? And be absolutely confident they'd hit the ground running?
At QA this idea of talent on tap is known as 'Squad-as-a-Service' or SQaaS. You benefit from having the talent you need, when you need it, without the hassles of hiring: So high upfront costs, slow deployment, and the ever-present risk of losing tech talent you've just spent months training are no longer a problem.
The new tech-hiring paradigm
Squad-as-a-Service works by expanding the pool of tech talent – fast. We take carefully selected recruits, lead them through intensive practical learning, and place them in organisations with critical talent gaps in their digital strategy.
Our Tech Specialists are deployed to our clients for up to two years, with over 90% of them eventually joining the host organisation's payroll. And on the rare occasion when another specialist might be a better fit, we offer replacements at no additional cost.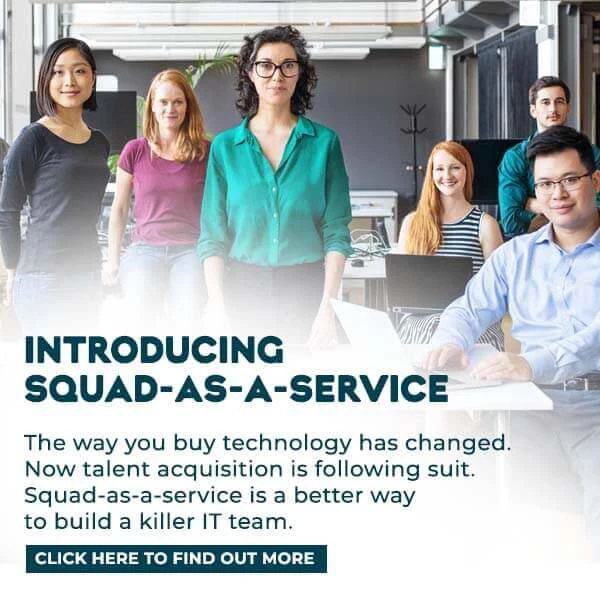 Crucially – and this is key to the success of SQaaS – our involvement doesn't stop when Tech Specialists emerge from their training. We follow them through their time with the organisation, supporting them with ongoing learning and development and pastoral care to ensure they remain happy and productive in their roles.
The benefits for both these new tech talents and the companies they join are immense. As I write, our Tech Specialists are in service with some of the largest, most complex enterprises in the UK.
If you're like many tech-hungry leaders I've spoken with, you're probably curious about our methods. Here's how we achieve one of the most exciting transformations of human potential – all the way from recruitment to successful placement, and beyond.
1. Attract: The rigorous recruitment process that screens for the best
We're passionate about finding the right talent. We partner with a diverse range of networks to attract over 100,000 applicants each year from all kinds of backgrounds and levels of experience.
We use predictive AI, telephone discussions, face-to-face interviews and technical assessments to ensure that our candidates have the right aptitude and attitude.
Our assessments uncover the qualities that make for star employees – including, when appropriate, the innate flair for critical and numerical reasoning that underlies coding potential.
2. Train: The intensive 12- to 14-week programme of technical, professional and personal development
We make no assumptions about prior learning. We start from scratch.
The first five weeks
The first week tackles basics such as time management and best practices for storing code. Once that's done, we lead trainees through an immersive, participative learning experience that focuses on the fundamental tech skills that are common to all specialisms.
Those first five weeks are often the toughest. But our rigorous selection process ensures that the vast majority of individuals enjoy the experience and do very well indeed.
Another thing we've discovered is that virtual learning is as effective as face-to-face encounters. In fact, it's easier than ever to encourage, monitor and track engagement: trainees uncomfortable with speaking out initially can raise a virtual hand, or use instant chat to ask questions. And support can be tailored to a learner's preferences.
In keeping with our focus on practical skills, the fifth week culminates in their first project and an assessment against the requirements of SFIA Level 2.
Week six to week eight
From this point, the trainees begin to specialise, taking core modules that are relevant to their practice area – whether that's software development, DevOps, cloud, cyber, RPA, PEGA or even Salesforce.
Weeks nine and 10
After another project at week eight, they move on to the specific tools they'll need for a particular client: React, for example, if they're training to be software developers.
Weeks 11 and 12
They're now ready for the really exciting part: the final project where they bring together everything they've learned. The project might be something we devise or – even better – a real-world challenge posed by the organisation they'll soon be joining.
I'm constantly amazed by the depth of understanding showcased in that final project. In fact, the British Computer Society recently had this to say about our Squad-as-a-Service training:
"This is a well-designed, well-run and well-led programme. When candidates leave… they have the capability both technically and professionally to rapidly deliver at [SFIA] Level 3 within their first deployment, if the role demands it."
3. Deploy: Pastoral care and continuous personal development
We don't just place tech talent – we continue to support them throughout their two-year contracts with the organisations they join.
Our dedicated liaison team stays in touch to ensure our Tech Specialists are happy and productive members of the organisations they join. Face-to-face reviews, phone calls and social events with their Academy peers are part of this package of personal pastoral care.
And to ensure they're constantly aligned to the changing demands of their role, each Tech Specialist has a personal development pathway of learning outcomes and certifications.
SQaaS is a brilliant programme – and no one knows this better than me. I began my IT career as a QA Tech Specialist, and the support I received both before and during my placements (eight exciting years in all) was simply outstanding.
Today I'm a learning architect at QA, a role that's allowing me to give back to an industry that's been very good to me indeed. It's great to know that the practical experience I gained as a QA Tech Specialist is now helping new tech talent hit the ground running in some of the UK's most demanding enterprises.