A five-day immersive bootcamp covering the key technologies that non-tech colleagues need to understand
For organisations to succeed in digital, everyone must adopt a digital mind-set. Achieving this requires a common understanding of the tools, technologies, terminology and ways of working.
GetTech is designed for anyone that needs initial skilling or cross-skilling for the digital age.
GetTech will provide your non-tech people with a solid understanding of the digital ecosystem, giving your people the confidence and ability to engage in digital discussion, improving communication throughout your organisation and enabling you to successfully execute and deliver your digital transformation strategy.
Initial Skilling
Creating digital awareness and understanding, that helps to build confidence and provide a solid foundation for further development.
Aimed at early-career talent such as Apprentices, Graduate Trainees and Junior Consultants.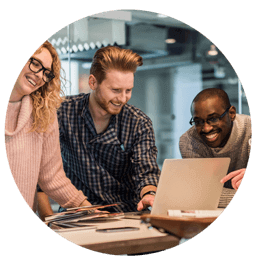 Cross Skilling
Programmes designed to bridge the gap between business and tech, particularly for those working in tech and digital areas for the first time.
Aimed at existing talent. Typical roles include; Sales, Marketing, Project Managers and Operations.
Contact us for more information
Introductory pricing now available
Hover on the cards below to see our introductory offers.
Introductory offer £2,275 per learner
GetTech: Immersive
Introductory offer £1,575 per learner
GetTech: Essentials
Customised GetTech programme
Please contact us to discuss pricing
Customised GetTech programme
Introductory offer applicable on course events until 30 April 2021. Full prices will then apply following this date: £3,500 for GetTech: Immersive and £2,100 for GetTech: Essentials.
The GetTech training programme
The GetTech: Immersive bootcamp is a training programme that has been specifically designed to provide the essential training needed to bridge the digital divide.
GetTech: Immersive
GetTech: Immersive
The recommended 5-day programme gives a practical hands-on introduction to the most commonly adopted technologies, including:
Digital Transformation Simulation Day
Lean Start-up & Design Thinking
Data Driven Decision Making
Learn to Code
Cloud Experience Day
GetTech: Essentials
GetTech: Essentials
A 3-day programme that covers just the basics of tech used in modern enterprises, including:
Digital Transformation Simulation Day
Lean Start-up & Design Thinking
Data Driven Decision Making
Customised GetTech programme
Customised GetTech programme
An additional set of modules are available for organisations wishing to customise the GetTech programme to align with specific technologies or methodologies. Modules are available in the following subjects:
Agile
Business Analysis
Cloud
Coding
Cyber
Design Thinking
DevOps
Digital Transformation
For further information, please download the GetTech flyer.
Download flyer
Why choose QA?
QA is the UK's leading tech talent and training organisation, and we are true specialists in technology. That's why more than 270,000 people trusted us for their tech training last year.
























Case study: Reuters graduate programme
Reuters was looking to train their graduate intake in a number of core technologies and skills to equip them with the capabilities needed to effectively deliver on Reuters' digital strategy.
Interested and want to learn more?
Please fill out the form below and a member of the team will contact you shortly.