Cisco SecureX launched in June and appears to be gaining momentum within the cyber security industry. After it was first announced in February 2020 at the RSA conference, there has been a huge and positive reaction from the mass followers on social media, SOC analysts and customers. In fact, after the RSA conference announcement, there was a waiting list for their beta program which was oversubscribed.
So, what is SecureX?
SecureX is a cloud-native platform. The goal is to provide an open and integrated solution that unifies all your infrastructure in a single, visible location that helps to secure your applications, endpoints, network and cloud. Cisco SecureX analyses events and data across the enterprise, including from more than 150 million endpoints as well as network traffic from switches and routers, public clouds and private data centre environments. Within minutes, Cisco SecureX can identify who and what has been targeted and enable remediation using data enrichment across security products and threat intelligence feeds.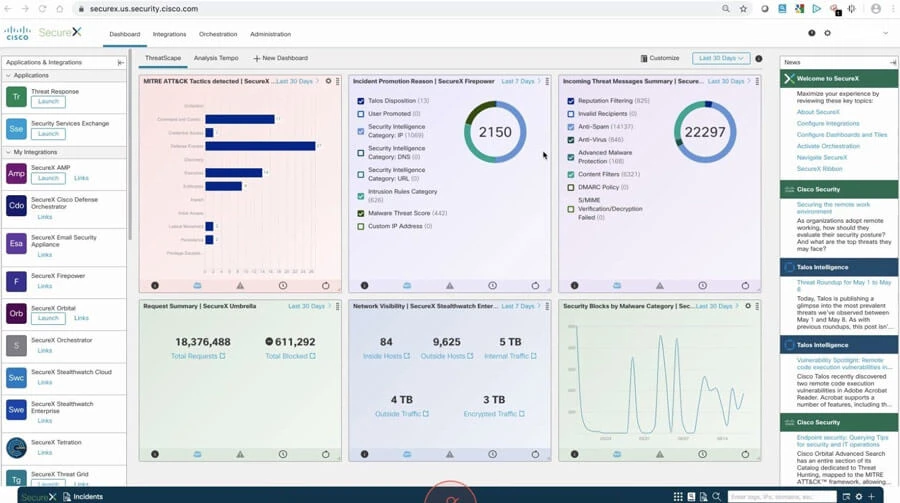 SecureX is an easy-to-use solution that provides visibility, integration and orchestration to the customers. With the product included with every Cisco Secure product purchased, SecureX provides a unified view of your security stack, like looking at a single pane of glass. SecureX supports multiple playbooks out of the box, such as phishing, vulnerability management and – most relevant at the moment – secure remote worker. In addition to securing the remote workforce, SecureX playbook can be run to continuously monitor for VPN head-end load so we can get NetOps authorisation to automatically spin up a new virtual VPN head-end to reduce and balance out a high load.
What is SecureX Threat Hunting?
SecureX Threat Hunting is a proactive, analyst-centric approach that uncovers hidden advanced threat. There is a tailored approach for every customer and if a threat is identified, threat hunters notify the customer of how the attack was found, what should be done to protect against it and more. Better still is that customers can benefit from the vast experience of largest non-government threat intelligence agency Talos. To start with, SecureX Threat Hunting will be available as part of Cisco Endpoint Security offer.
The cloud-native email security platform Cloud Mailbox Defence for Office 365 focuses on simple deployment, easy attack remediation and superior visibility, once again from Cisco Talos. Cloud Mailbox Defence provides full visibility by stitching together messages that are inbound, outbound, or internal. This augments secure email gateways (SEGs) that do not scan internal messages. Many platforms miss key vectors such as email. Cisco has best-in-class product-level capabilities and continues to innovate with the SecureX platform to offer visibility and integrations.
Secure Access Service Edge (SASE) shows that integration is also required between security products and core infrastructure, not just between security products. Cisco is breaking new ground with a SASE solution that delivers a growing set of security functions from one cloud-native service and provides a unified SD-WAN and cloud security offer. Adding the fastest, easiest security deployment for offices to the most widely deployed branch router and providing direct internet access, Cisco's secure SD-WAN solution is proven to provide the highest security efficacy.
Who would have predicted, even last year, that businesses would need to transform so dynamically, so quickly, to support their existing workforce and maintain their current and future business needs in a new normal world? Every organisation needs to adapt and this pandemic will no doubt have been the catalyst for massive simplification and automation. Complex security for on-premise and mobile workforces is a problem, with almost 81% of security professionals stating that managing a multi-vendor security environment is a challenge.
SecureX simplifies the customer experience by providing a unified view of customers' environments, so they no longer have to jump between multiple dashboards, manage conflicting alerts, or policies. SecureX comes built into every Cisco Security product and offers out-of-the-box interoperability so when situations like the pandemic arise, companies can be agile and scale in a timely fashion.
Are you interested in learning from the vast array of Cisco skills and knowledge available in the Cisco portfolio?.