At a glance
The BCS International Diploma in Business Analysis is the industry-recognised certification that truly demonstrates the knowledge, skills and capabilities of an effective Business Analyst. It is designed to offer flexibility to develop skills in the key areas that are relevant to both the individual and the organisation.
In a survey independently audited by BCS, The Chartered Institute for IT, more people stated that they would recommend QA for their training over any other company.
Training Survey, November 2015 (482 Sample Size)
To gain the full BCS International Diploma in Business Analysis accreditation, delegates must take four courses and exams, and then pass an oral examination. The courses must be taken from the selection below and consists of two mandatory core courses, and then one knowledge-based course and one Practitioner course.  We also offer a workshop to help delegates prepare for the oral examination.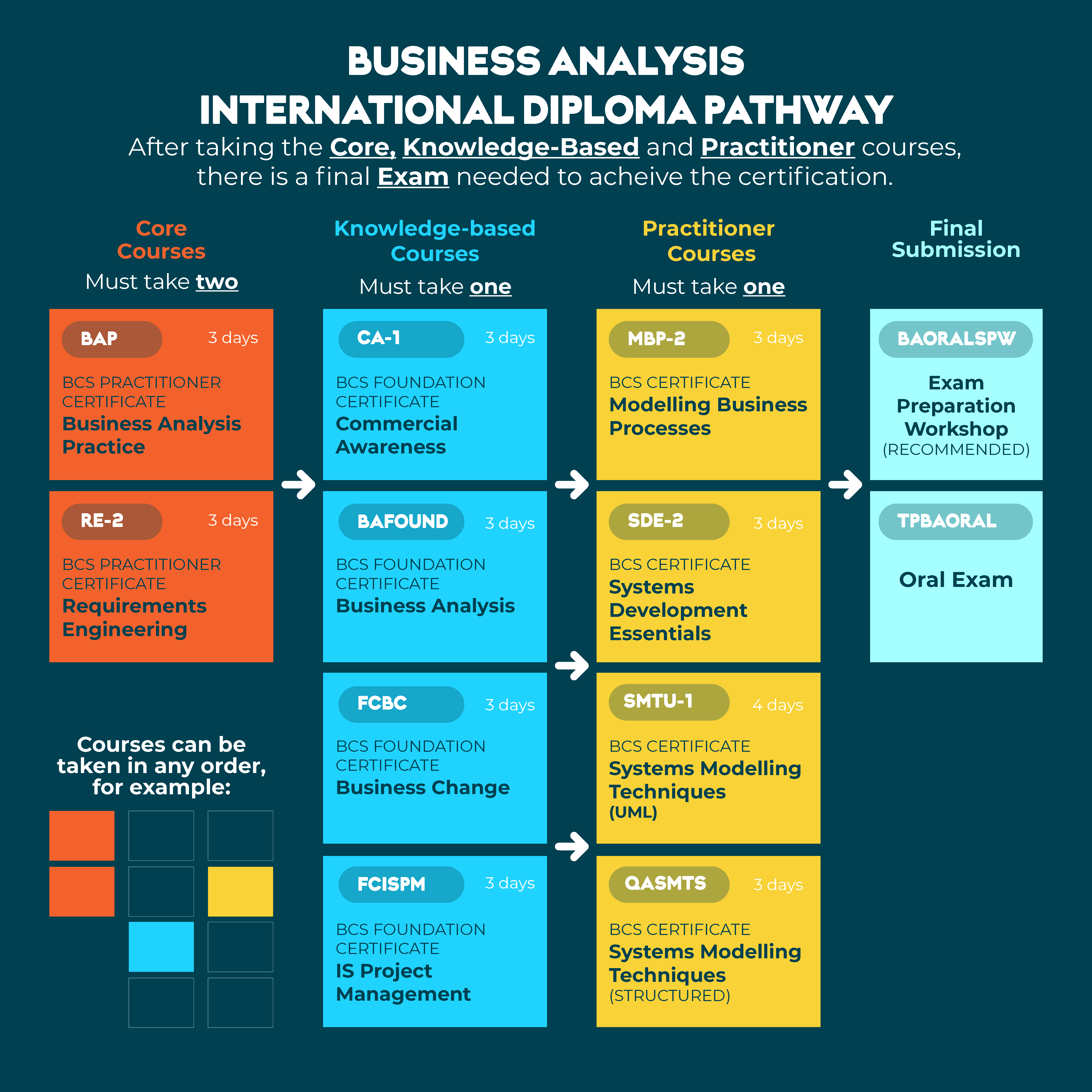 Certification Details
Our Complete Diploma is available from £4972 (exc. VAT). Please contact us to confirm your pricing depending on your individual course requirements. The package includes:
The two required courses - BCS Certificate in Business Analysis Practice and BCS Certificate in Requirements Engineering.
One Knowledge-based course selected from BCS Certificate in Commercial Awareness, BCS Foundation in Business Analysis, BCS Foundation Certificate in Project Management or the BCS Foundation Certificate in Business Change.
Then one Practitioner-based course selected from: BCS Certificate in Modelling Business Processes, BCS Certificate in Systems Development Essentials, or BCS Certificate in Systems Modelling Techniques (UML).
Then prepare for your BCS Business Analysis Oral Examination by attending our BCS Business Analysis Oral Examination Preparation Workshop.
Peace of mind with our Exam Insurance* allowing you to retake one exam during your Diploma track.
Upgrade options - Have you already started your Diploma route and taken some of the required courses?
Talk to us about the Complete BCS Business Analysis International Diploma upgrade 3 course or 2 course options.
TWO REQUIRED COURSES - First take the two required courses, Business Analysis Practice and Requirements Engineering and their associated exams. Exams are taken during the course but need to be booked separately for these courses:
ONE KNOWLEDGE BASED COURSE and EXAM - Then select one 'Knowledge-Based' course, from the BCS Foundation certificate options:
ONE PRACTITIONER BASED COURSE and EXAM - Then select one 'Practitioner-Based' course, from the BCS Foundation certificate options below. Please note that 'Practitioner-Based' courses do not include the exams and they must be booked separately.
ORAL EXAM PREP WORKSHOP and EXAM - Once you have passed your 2 required, 1 knowledge-based and 1 practitioner-based exam from the courses above, this BCS Business Analysis Oral Examination Preparation Workshop should be attended prior to taking the Oral exam which is taken externally. QA can book this for you, please contact us for details.
* Our exam insurance allows you to retake one exam during your Diploma track, the Oral exam is excluded from the exam insurance scheme.  Please note that the complete diploma must be taken as a package by a single named individual from a named company, within a 12 month period, on available QA public scheduled courses in the UK
Please contact us to enquire about this certification