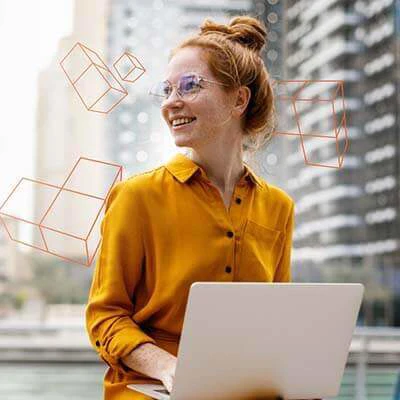 Get your free Apprenticeship Levy Assessment
Level up with the Apprenticeship Levy: Discover the untapped talent opportunity helping enterprises upskill fast
A killer solution to the current tech talent crisis is already here for the taking.
Right now, your organisation can save on costs, develop the most relevant and up-to-date skills across critical tech disciplines, and gain long-term competitive advantage.
The solution? Through digital apprentices and work-based learning programmes that enable learners to build and apply knowledge and skills to their role and gain a qualification alongside their day job.
It's all made possible thanks to the apprenticeship levy – a UK government initiative helping organisations get the talent they urgently need.
Let's take a closer look at the levy...
Tech talent on the table
The UK government introduced the apprenticeship levy in 2017. Organisations with a salary bill in excess of £3 million must put 0.5% of their total wage costs into the apprenticeship levy. The organisation can use all of this sum to fund apprentices or equivalent work-based learning programmes across critical disciplines such as cloud, Cyber, data DevOps, digital marketing, software development, and more.
It's a great incentive to help organisations and workers alike build those critical digital, development and data skills that are essential to giving UK industries a competitive edge — this is money that your organisation has already committed and budgeted for. There's little excuse not to use it.
What's more,  very time they hire an apprentice (from April 2021 – September 2021). So it pays to find out how you could be developing top tech talent at a fraction of the full cost.
Such initiatives can make a real difference to the cost of building digital talent in your organisation, introducing the very latest thinking in critical disciplines in digital, data and development without a big upfront investment.
What's the pay-off?
For learners, it's a path to developing the most valuable, in-demand skills and then applying those skills in a work environment. In return, they gain experience and employment stability.
For organisations, the levy provides a steady pipeline of up-to-date skills, plus the ability to access a highly capable and diverse pool of new talent. Organisations benefit from greater retention (Oxford Economics and Unum's research found that it costs on average £30,614 per employee to find and install replacement staff, and build them towards optimum productivity) and from fostering a strong, diverse company culture.
There's a swathe of other long-term benefits too:
Keep up with innovation
Apprenticeships and work-based learning programmes comprise practical courses for in-demand tech skills, including Data, DevOps, Cloud, Cyber Security, Software Development, Digital Marketing and more. New hires and existing, experienced employees alike can enrol in the latest critical programmes that are right for their experience level.
Overcome limited budgets
Tech talent is out there. But it's often in the shape of experienced staff who stretch budgets and who don't usually stay for long, such as contractors. Subsidised, high quality training brings fresh expertise without the issue of eye-watering fees and threat of churn.
Take on the competition
Apprenticeships and work-based learning help you escape a reactive hiring culture. While competitors stretch budgets and scramble to fill skills gaps, you could be building your talent pipeline confident you have the tech talent needed for your future digital strategy.
Lots of loyalty
Staff retention is one of the biggest bugbears of the tech talent crisis. Apprenticeships and work-based learning gives your talent opportunities to build up new knowledge and apply their skills to your tech challenges. Staff are more likely to stay when they can stay engaged and know their contributions are recognised.
The levy ain't dry
The problem is, many organisations let the apprenticeship levy go to waste. Unused, the money simply goes back into the government's pockets: £250 million was handed back to the Treasury over 2020/21.
That's because organisations and hiring managers may not even be aware that a funded option to develop talent is available to them, or because they don't know how to effectively maximise the potential of their talent streams.
That's why we're offering a free Apprenticeship Levy Consultation. We can help you understand the value of the levy your organisation is already contributing and how to use your levy to solve your tech skills shortage.
What to expect from a consultation
When you book your Apprentice Levy Consultation, the first step is for one of our highly experienced experts to find out more about the following:
The tech skills that are most in-demand for your organisation
The broader tech talent challenges you're facing
Your organisational aspirations in regards to diversity and inclusion
The learning and development programmes you already have in place for your people, and how your track and measure their success
What systems and processes do you have in place to support individual development
The initiatives you use to upskill and reskill your workforce to tackle your future digital agenda
Then we'll provide you with a summary of our findings and recommendations tailored to your organisation's specific tech talent needs.
We'll advise how you can get the most out of the apprenticeship levy to build the tech capabilities you need – and help your organisation achieve its full potential.
Assess your hiring strategy
Apprenticeships and work-based learning opportunities give your business the competitive advantage you need to grow and stabilise your organisation's talent pipeline. A consultation could make all the difference for saving costs, spotting opportunities and maximising returns from the levy you're already paying for.
QA delivers more digital learning programmes to UK organisations than any other provider, and with the highest overall pass rate. Our award-winning delivery model helps learners develop further and faster, meaning they rapidly become productive members of your team — helping you gain return on your investment in the apprenticeship levy faster than ever.
With programmes from Level 3 (GSCE) to Level 7 (Masters), we can help your learners to progress and grow within your organisation, helping you retain talent and build the capabilities you need to thrive.
Book your Apprentice Levy Consultation today and help your organisation reach its full potential.
Or would you rather talk about finding amazing candidates for your apprenticeship programme instead? Get in touch and we'll help you get started.