This week marks National Apprenticeship Week 2020, an event designed to showcase apprenticeships and highlight the success people have had through work-based learning.
This year, the driving force behind National Apprenticeship Week, the National Apprenticeship Service, is calling on young people, teachers, parents and others to tackle outdated stereotypes in their "Look Beyond" campaign.
Getting buy-in from parents especially has been a big part of any young person's decision when considering further education options but, for years, many parents tended to see apprenticeships as the poor relation to university. In fact, in just 2013, only a fifth of parents said apprenticeships were first or second choice in terms of the route they wanted their children to take.
But opinion has changed. Our research released today of 1,000 parents across the UK, shows 93% of parents today are backing apprenticeships as a viable option for their children. More than half (56%) went on to say they saw them as the best option for gaining real work experience, while a quarter (24%) valued them as a way for the younger generation to 'earn while they learn'.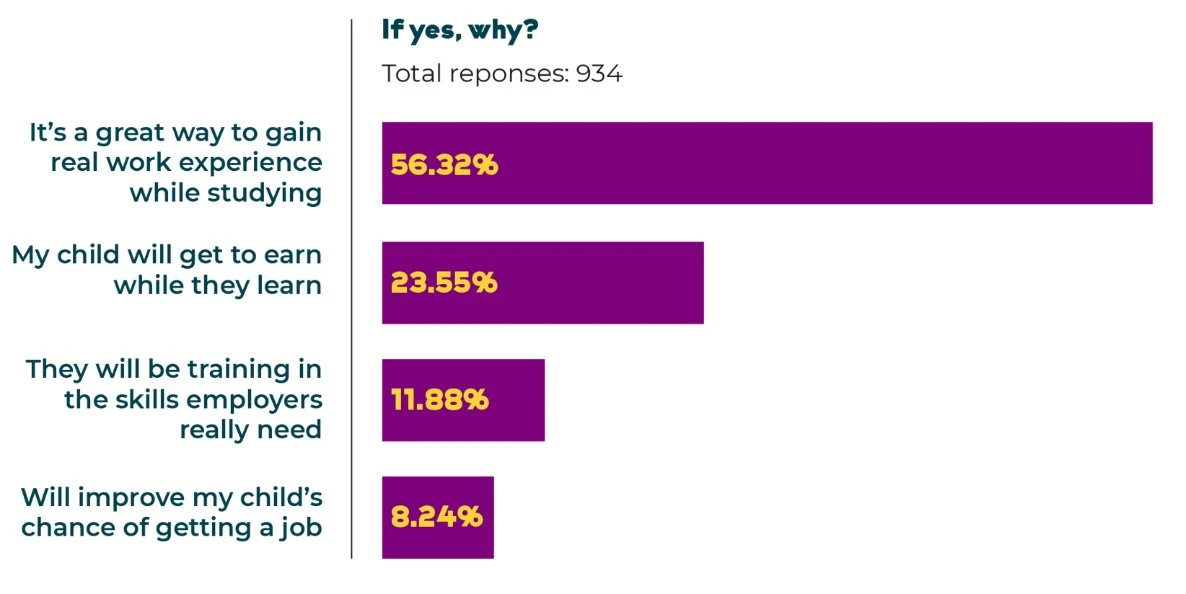 One example of a parent who used to have hesitations about their child taking on an apprenticeship is Bhupinder Rai, a Police Superintendent at Thames Valley Police, who was initially disappointed when her son Amar told her he wouldn't be pursuing a more traditional career path. Bhupinder and Amar were recently interviewed on the new podcast series #Get2020Vision, where Bhupinder recalls her reservations:
"When Amar first told me he wanted to do an apprenticeship, I was heartbroken that he didn't want to go to university. He had always got such good grades at school and I didn't know much about apprenticeships – I had a vague notion from when I was younger that they were a 'poorer cousin' of going to university.
"That said, I didn't want to dictate what Amar should do. I looked into apprenticeships a bit more, and when I realised he would still get a degree at the end and earn while learning, I really came around to the idea. After all, learning on the job with an apprenticeship gives you the added bonus of picking up softer behavioural and professional skills – and they're the skills that elevate you as a candidate when applying for a job in the future.
"It's great to see other parents getting behind apprenticeships too. I had to do a lot of my research around then on the internet, but there are now more open days, events like National Apprenticeship Week and organisations like QA giving information on what they entail, and I think that's winning a lot of parents around."
Her son Amar is now a QA apprentice alumni and Systems Engineer at Cisco. He says:
"I've never felt pressured by my parents in any decision, but I valued their backing when I decided to do an apprenticeship. My mum is a very logical person and I knew she'd want to do her own research, but when I told her the benefits of doing an apprenticeship, she listened and was surprised by the number of pros compared to going to university.
"I'd always wanted to work in technology – perhaps due to my childhood dream of becoming an astronaut – and I knew an apprenticeship would help me get the very latest tech skills while earning and without needing a student loan. Having Mum's support means the world, and seeing other parents get behind apprenticeships is great – I've been really happy with the path I've chosen!"
Not only are young people across the country more encouraged by their parents than ever to consider apprenticeships as an option for further education, but more businesses are valuing the apprenticeship route for attracting a more diverse and technically skilled workforce.
You can find out more about QA's technical apprenticeship programmes here.